The National Suicide Research Foundation are excited to announce our Virtual Seminar on Monday October 18th 2021, to celebrate World Mental Health Day. 
In collaboration with University College Cork, the Higher Education Authority, C-SSHRI: Connecting Suicide and Self-Harm Researchers on the island of Ireland, the Office of the Mental Health Champion of Northern Ireland, Ulster University and the HSE National Office for Suicide Prevention, we are delighted to host this event, via Zoom, for those working, studying, and interested in areas related to Suicide, Self-Harm and Mental Health.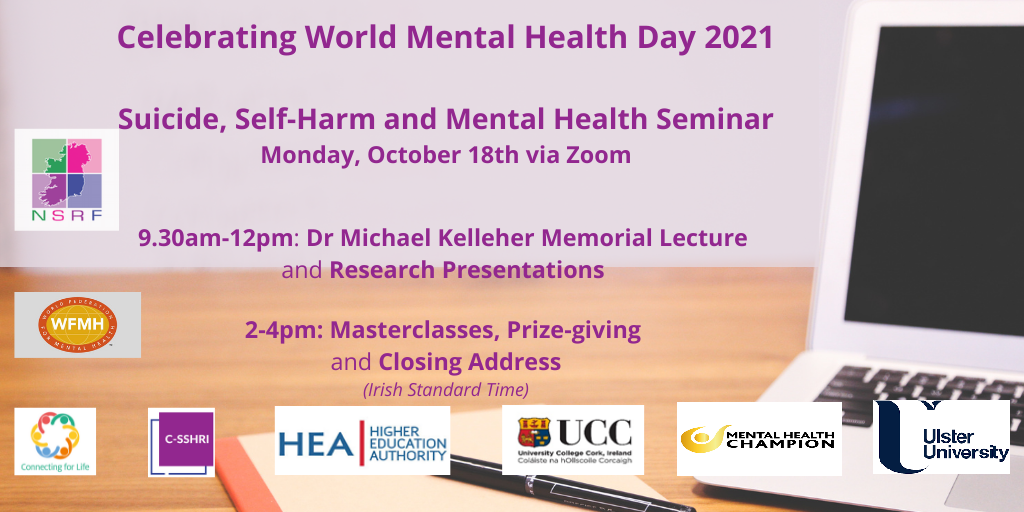 The Seminar Programme will have two parts:
Morning (9.30am – 12.00pm): Dr Michael Kelleher Memorial Lecture and Research Presentations
Afternoon (2.00pm – 4.00pm): Masterclasses (running in parallel), Prize-giving and Closing Address
Masterclass topics:
Mental Health promotion and suicide prevention in children and adolescents
Impact of COVID-19 on suicide and self-harm
Bereavement following suicide
Assessment and Management of self-harm: Challenges and Innovation
Further Programme details will be issued in coming weeks
**Abstract submission for Research Presentations now open**
**Deadline for submission is Friday, October 1st, 2021, 9.00am**
We invite submission of abstracts from researchers at all career levels, in areas related to suicide, self-harm and mental health. Prizes will be awarded to Early Career Researchers for best presentation in both categories (15-minute and 3-minute rapid presentations). Please refer to Guidelines below.
Guidelines for Abstract Submission (Oral presentation)
Abstract submissions are invited on the following topics:
The impact of COVID-19 on suicide, self-harm or mental health
Youth mental health
Abstracts should be structured according to the following headings:
Objectives
Methods
Results
Conclusion
Please indicate your preference for 15-minute or 3-minute rapid oral presentation
Further guidelines:
The abstract title should contain no more than 20 words.
The abstract text should contain no more than 350 words.
References should not be used within the abstract, unless particularly useful for clarification.
Personal contact details etc. are not permitted within the abstract text.
Please submit the details of presenting author within the body of the email as follows:

Name
E-mail address
Phone number
Please indicate if you are an Early Career researcher. This typically includes postgraduate, masters, PhD and postdoctoral candidates, registrars and trainee psychologists. If unsure, please indicate your current status for us to clarify.

Please submit details of any co-authors and their affiliations.
Submit abstract as a word document via email to Dr Clíodhna O'Connor at cliodhna.oconnor@ucc.ie
Deadline for submission of abstracts is Friday October 1st, 2021, 9.00am.
The 15-minute presentations will include a 10-minute presentation and a 5-minute Q&A.
There will be no Q&A for the 3-minute rapid oral presentation
Please note, there are limited oral presentation opportunities within the Seminar programme. Abstracts will be reviewed by a judging panel including NSRF and non-NSRF staff members.
A notification of Review Outcome will be sent by Friday October 8th 2021. Further details regarding presentation will be issued to successful applicants.
For queries and abstract submission, please email cliodhna.oconnor@ucc.ie