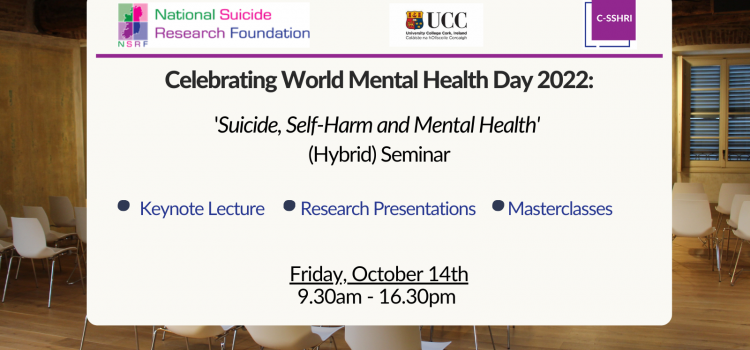 In celebration of World Mental Health Day 2022, the NSRF, in collaboration with C-SSHRI, are hosting a Suicide, Self-Harm and Mental Health Seminar.
This full-day Seminar will feature a Keynote Lecture, Research Presentations and focused Masterclasses on a wide variety of topics related to suicide, self-harm and mental health.
Further information on the Seminar Programme and Keynote speaker will be shared in the coming weeks.
To register your free attendance, please visit our Eventbrite page.
Guidelines for Abstract Submission
Abstract submissions are invited on the following broad topics:
1. Mental health
2. Self-harm
3. Suicide
Abstracts should be structured according to the following headings:
Objectives
Methods
Results
Conclusion
Further guidelines:
The abstract title should contain no more than 20 words
The abstract text should contain no more than 350 words
References should not be used within the abstract, unless particularly useful for clarification
Personal contact details etc. are not permitted within the abstract text
Please submit the details of presenting author within the body of the email as follows:

Name
E-mail address
Phone number
Please indicate if you are an Early Career researcher. This typically includes postgraduate, masters, PhD and postdoctoral candidates, registrars and trainee psychologists. If unsure, please indicate your current status for us to clarify.
Please submit details of any co-authors and their affiliations
Please indicate your preference for 15-minute or 3-minute rapid oral presentation
Submit abstract as a word document via email to fenella.ryan@ucc.ie
Deadline for submission of abstracts is Wednesday August 31st 2022.
Successful applicants for the 15-minute presentations will have 12 minutes to present and 3 minutes for questions.
Please note, there are limited oral presentation opportunities within the Seminar programme. Abstracts will be reviewed by a panel, and a notification of Review Outcome will be emailed by the end of August.
We encourage all presenters to attend the Seminar in-person.
For further information or queries related to abstract submission, please email fenella.ryan@ucc.ie