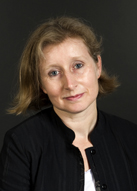 Chief Scientist and Professor of Public Mental Health
For over 28 years, Professor Ella Arensman, MSc, PhD (Leiden University, The Netherlands), has conducted research into suicide, self-harm and related mental health problems, with particular expertise in epidemiological research, randomised controlled trials, health services research, health information systems, and programme evaluation. In her position as Director of Research, Ella has a leading role in strategic research planning, acquisition of research funding national and international level, dissemination of research outcomes, and capacity building in terms of training and supervising doctoral and post-doctoral researchers.
In addition to more than 90 papers published in peer review journals, Ella has published an extensive number of reports and evidence briefs for government departments, and national and international agencies, in particular NOSP, IASP, WHO, and the EU.
Currently, Ella serves on 16 national and international boards, advisory panels, and scientific committees (Appendix A). She is an expert advisor for WHO and has been involved in advisory delegations with governments and health services in Japan, South Korea, Egypt, French Polynesia and Suriname. She was a key contributor to the WHO Report – Preventing Suicide: A Global Imperative (WHO, 2014). She played a key role in developing the 10-year Irish National Strategy for Action on Suicide Prevention: Reach Out (2005-2014), and she is a key contributor to the development of the new Irish Strategic Framework for Suicide Prevention, (2015-2020).
Since the early nineties, Ella has been involved in a large number of international research consortia including the WHO/Euro Multicentre study on Suicidal Behaviour, Child and Adolescent Self Harm in Europe, EAAD, Optimised Suicide Prevention programmes and their Implementation in Europe, Preventing Depression and Improving Awareness through Networking in the EU, and Mental Health Training through Research Network in Europe.
Ella has been successful in many highly competitive funding rounds. Recently, she has been awarded a grant of just over 1 million by the EC Executive Agency for Health and Consumers for an international research consortium to prevent depression.