Author: Fenella Ryan
---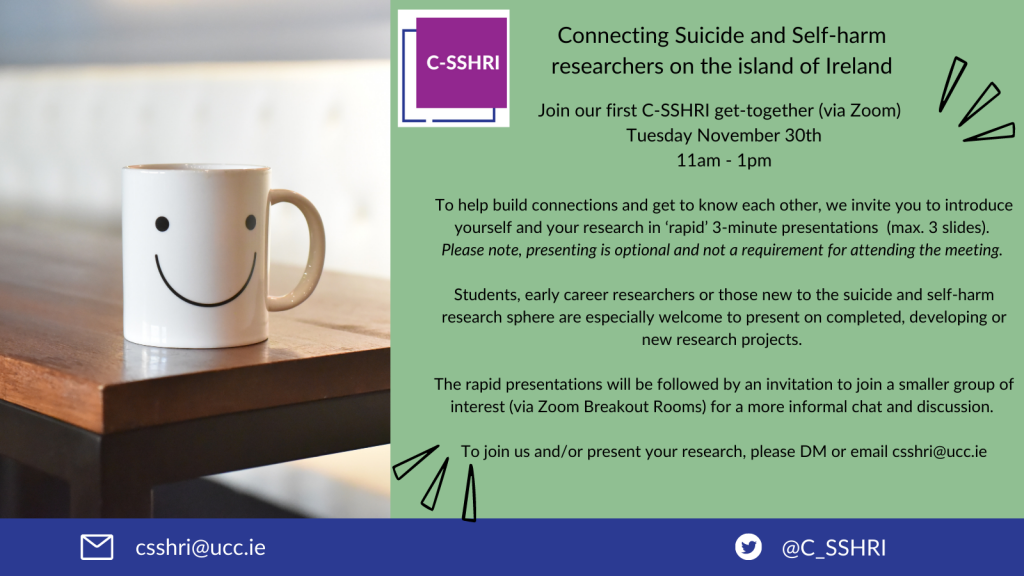 Connecting Suicide and Self-Harm Researchers
Today, the NSRF will host the first (virtual) get-together of C-SSHRI members.
C-SSHRI stands for Connecting Suicide and Self-Harm Researchers on the island of Ireland and the initiative came about through a shared desire by the NSRF, the Higher Education Authority and the HSE National Office for Suicide Prevention, to fulfill Action 7.4.2 in Connecting for Life, Ireland's national strategy to reduce suicide.
C-SSHRI is a new Network, which aims to bring together those working in the area of suicide and self-harm research, to facilitate closer collaboration and a sharing of findings.
Networking
We may have lost many of our usual networking opportunities recently, but we hope today to get to know others working in the suicide and self-harm research sphere and, through 3-minute 'rapid' presentations, hear an introduction to each other's work. The next best thing to hanging around a conference pastry table!
Want to learn more or get in touch?
Anyone in Ireland, North or South, who is working in the area of suicide or self-harm research, is welcome to become a member of C-SSHRI and to join the meetings. If you would like to read more, please visit C-SSHRI – National Suicide Research Foundation (nsrf.ie) or email csshri@ucc.ie.
First C-SSHRI Member Get-Together