Authors: Margaret Kenneally and Dr Mallorie Leduc
---
'Creating Hope Through Action'
The National Suicide Research Foundation and the School of Public Health, UCC hosted two interrelated Webinars yesterday to honour World Suicide Prevention Day 2022. The Webinars offered the opportunity to present the remarkable work that occurs behind the scenes on a daily basis. The organisation of these Webinars has been a rich experience for the team, highlighting the great work and progress made on both the MHAINTAIN and EAAD-Best projects.
The International Association for Suicide Prevention (IASP) created the theme for World Suicide Prevention Day 2022, 'Creating Hope Through Action' – an inspiring theme that goes hand-in-hand with both projects discussed during our Webinars.
MHAINTAIN
The first section of the Webinar introduced the new HRB-funded project MHAINTAIN.
MHAINTAIN is a research training network addressing the need for doctoral training and career paths to improve early identification and intervention of self-harm and suicide risk.
The MHAINTAIN research training programme includes four Doctoral Projects, with five PhD Scholars. There were presentations from several members of the MHAINTAIN consortium, which consists of an interdisciplinary team of researchers and health professionals.  The consortium aims to improve capacity building in the assessment of the risk of suicide and self-harm and evidence-based interventions across patient-focused research, health services research, and population health research.
Principal Investigator, Professor Ella Arensman and Co-Lead, Dr. Paul Corcoran introduced the Webinar, welcoming attendees.
Professor John Cryan, (Vice President for Research and Innovation, UCC) began the summit, applauding Professor Arensman for her determination in securing the HRB Collaborative Doctoral Award.
An opening address from Professor Vincent Russell (National Clinical Lead, National Clinical Programme for Self-Harm and Suicide Related Ideation) shortly followed. There were presentations from Professor John Browne, Professor Eugene Cassidy, Dr. Olivia O'Leary, Dr. Eve Griffin and Professor Kairi Kolves.
EAAD-Best
The second portion of the Webinar focused on the EAAD-Best and the Cork Kerry Alliance Against Depression demonstration workshop, entitled, 'EAAD-Best: Perspectives on Early Identification of Suicide Risk and Prevention'. This topic greatly compliments the IASP's theme 'Creating Hope through Action'.
EAAD-Best is a European Union funded project that aims to improve care for patients with depression and to prevent suicidal behaviour in Europe by transferring the community-based 4 level intervention concept and promoting the uptake of the iFightDepression tool.
The event provided a brief background on the overall EAAD-Best project and highlighted ongoing work undertaken in partnership with the Cork Kerry Alliance Against Depression. An interactive demonstration workshop showcased the aspects of the training opportunities that are available for General Practitioners and Mental Health Professionals and community stakeholder groups such as pharmacists, clergy, counsellors and social workers, geriatric care givers, and journalists.
A live demonstration of the iFightDepression website and iFightDepression Tool was provided to highlight their respective features and support systems. There was also an opportunity to express interest and register for upcoming training sessions on depression and suicidality. 
 To learn more…
Recordings of these two webinars will be available soon. For more information or to learn more about EAAD-Best, and upcoming training opportunities, please contact the team at eaadbest@ucc.ie. The MHAINTAIN website is currently under construction and will be launched in Autumn 2022. For more information please contact mhaintain@ucc.ie.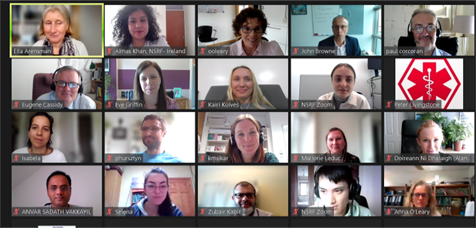 World Suicide Prevention Day 2022